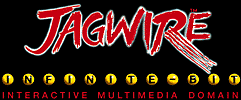 Myst
Platform: Jaguar CD
Availability: NOW
MSRP: $59.99
Number of Players: 1

Memory track cartridge recommended.
Get lost in the worlds of Myst. Use your mind to unlock the secrets of ages past. What happened to Atrus' world? How are his sons connected? It's up to you to find out. Take careful notes. Everything you see or hear, no matter how insignificant, could be the key to unlocking the mystery.

- View incredible video and animation
- Walk through stunning 3D photo-realistic graphics
- Experience a first-person point of view with no distracting controls or windows
- Explore eerie worlds of starkly fantastic beauty
- Delight in an original soundtrack and sound effects that enhance the sense of realism


Towers II
Platform: Jaguar
Availability: NOW
MSRP: $59.99
Number of Players: 1

Become one of four different charecters as you are immersed within the strange happenings in the mystical land of Lamini. You must uncover the secrets as you explore Draggan's tower. Many before you have tried, but none have returned.

First person perspective, full screen smoth scrolling, talk to others, refer to maps, collect 100's of items, encounter 100's of creatures, experience challenges in combat and spell casting.

Hours and hours of enterainment with appropriate save features.




SOFT JAG | HOME | HELP-O-RAMA