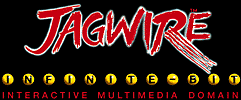 Myst
Platform: Jaguar CD
Availability: NOW
MSRP: $59.99
Number of Players: 1

Memory track cartridge recommended.
Get lost in the worlds of Myst. Use your mind to unlock the secrets of ages past. What happened to Atrus' world? How are his sons connected? It's up to you to find out. Take careful notes. Everything you see or hear, no matter how insignificant, could be the key to unlocking the mystery.

- View incredible video and animation
- Walk through stunning 3D photo-realistic graphics
- Experience a first-person point of view with no distracting controls or windows
- Explore eerie worlds of starkly fantastic beauty
- Delight in an original soundtrack and sound effects that enhance the sense of realism


FlipOut!
Platform: Jaguar
Availability: NOW
MSRP: $29.99
Number of Players: 1

A puzzle game with an alien twist. Take a tour of the cheese planet (or as the citizens call it, Planet Phromahj) which includes nine different areas of game play, with multiple games per area, and four difficulty levels, from normal to psychotic. Whatever you do, watch out for those mischievous little aliens. Some will try to help you (if you can call it help), but most will try to trip you up for the fun of it. If they weren't so cute, you'd wring their necks.

- Nine wacky areas with multiple games in each area
- 4 difficulty levels from Normal to Psychotic
- Twelve kinds of crazy aliens


Vid Grid
Platform: Jaguar CD
Availability: Pack-in
Number of Players: 1

Here's a whole new way to "play" music videos. As you watch each video, the screen is divided into squares that are all mixed up. You have to unscramble each video while it's playing before the music ends. You'll choose to divide the screen by 3x3, 4x4, 5x5, 6x6 squares, upside down, to name just a few options. Vid Grid features your favourite artists in their uncut videos.

- Features full-length, uncut music videos from the likes of Aerosmith, Peter Gabriel, Guns N' Roses, Jimi Hendrix, Metallica, Soundgarden, Van Halen, Ozzy Osborne and Red Hot Chili Peppers
- Choose from multiple options for hours of challenging game play


Zoop!
Platform: Jaguar
Availability: NOW
MSRP: $59.99
Number of Players: 1

Right here inside this cardboard box is the excitement you crave, the challenge you need.

Level after level of brain burning action coming at you from all sides, faster and faster untill your thumbs are numb, your eyes are aching, and your mind is molten.

* Scorching four-way action!

* 99 levels of action!

* "Opti-challenge" increasing complexity!

* Demands strategic thinking.


Evolution: Dino Dudes
Platform: Jaguar
Availability: NOW
MSRP: $29.99
Number of Players: 1

As the proud leader of Dino Dudes, it's up to you to lead your hairy band of Cro-Magnons to the top of the food chain. Discover fire, weapons, The Wheel...battle dinosaurs and rival tribesman .. and do everything you can to survive so your kids can someday invent cool stuff like the malls, video games and of course the double cheeseburger.

- An evolutionary 64-bit experience

- Become the dominant species using your wits and your dudes

- 80 levels of Neanderthal puzzle-adventure

- A cave load of prehistoric enemies to battle, including dinosaurs and rival cavemen

- Tons of obstacles to overcome, including cliffs, boulders and famished carnivores

- Discover and master the use of tire, spears, ropes, even powerful witchdoctors.




SOFT JAG | HOME | HELP-O-RAMA