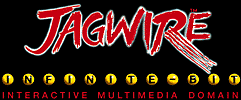 Defender 2000
Platform: Jaguar
Availability: NOW
MSRP: $59.99
Number of Players: 1

Save the humanoids from the evil alien invaders in this updated version of the arcade classic. Defender 2000 features surprise games and bonus rounds, level warps and power-ups, 3D rendered enemies, and amazing boss characters which catapult the classic coin-op into the 64th dimension.

- Created by Jeff Minter, creator of Atari's Tempest 2000 and Virtual Light Machine
- Three game modes: Defender Classic, Defender Plus and Defender 2000
- The original coin-op audio and gameplay taken to the 64th power in Defender Classic
- Modern graphics and loads of enemies in Defender Plus
- True color-rendered graphics, parallax scrolling and additional enemies in Defender 2000
- Upgradeable laser weapons, autofire, AI droids and spectacular explosions
- Bonus rounds to reward good gameplay
- 3D rendered graphics, paral;lax scrolling and warping backgrounds
- Intense CD-quality techno-rave soundtrack by the award winning musical team from Tempest 2000


Attack of the Mutant Penguins
Platform: Jaguar
Availability: NOW
MSRP: $59.99
Number of Players: 1

In the far-off galaxy "Bleurgggh" (Nebula Quadrant), an evil race of slimy green (but reasonably stupid) aliens have been monitoring the Earth's transmissions. Unfortunately for them, they only tuned in to a specific channel, and picked up "The Wildlife Show". They quickly made the decision to disguise themselves as the obviously dominant species on Earth - the penguin. Having invaded, they quickly realized their mistake and tried again to disguise themselves as humans. Nobody is fooled.

When the good Earth penguins found out about this slur on their integrity, they were not happy, and are out for a fight. Joining them in their struggle are those champions of inter-galactic do-goodery, Bernanrd (a round thing with a frying pan) and Rodney (a pear-shaped thing with a baseball bat) - legends throughout the universe.

So there you have it - it's the age-old story of Mutant Alien Penguins dressed up in costumes being slapped around by real penguins, clubbed by an oversize pear with a baseball bat, and clobbered by a round thing with a frying pan.


Breakout 2000
Platform: Jaguar
Availability: Now
MSRP: $49.99
Number of Players: 1-2

Breakout 2000 is an update of Atari's classic game, Breakout. As in the original, the game consists of a paddle, a ball and a playfield composed of bricks. The difference in Breakout 2000 is that it changes the viewpoint by rotating the playfield back into a 3/4 3D perspective. The objective is still to get a high score by clearing the playfield of all removable bricks and advancing to other playfields. If you love the original, you'll love this.

- Includes non-breakable bricks, and some that require several hits to break
- Power-ups that can give you an extra ball, spped the ball up or slow the ball down
- 50 levels

Ruiner Pinball
Platform: Jaguar
Availability: NOW
MSRP: $49.99
Number of Players: 1-4

4 players requires ProController RP (optional)
Ruiner Pinball is two fantastic games in one. In Ruiner Pinball, a double-wide table provides challenging gameplay and real arcade response as you strive to defend your country from foreign attack. Raise the DEFCON level from five to one and get ready to launch a strike of your own. In Tower Pinball, the triple-length tabble is so eerie you'll think you've descended into hell itself. The Sorceress is one mean lady, and her minions are more afraid of her than they are of you. Casting three spells will bring the tower crashing down, but can you figure them out before it's too late?

- Double-wide table (Ruiner) accessed via ramps
- Triple-length table (Tower) with three sets of flippers
- Texture-mapped 3D animated enemies and targets
- Arcade table sound effects combined with an awesome soundtrack
- Texture-mapped pinball
- Full screen scaling and rotation
- Over 65,000 vibrant colors


Missile Command 3D
Platform: Jaguar
Availability: NOW
MSRP: $59.99
Number of Players: 1

Aliens are out to take over your colonies and it's up to you to stop them. You're armed with an arsenal of lasers, missles and smart bombs, but it takes more than raw firepower to stop these guys. You've got to be quick and accurate to keep your cities from becoming alien neighborhoods. This Jaguar update of the arcade classic includes Original Missile Command, 3D Missile Command and Virtual Missile Command. Defend the cities from the relentless attack!

Protector SE
Platform: Jaguar
Availability: NOW
MSRP: $79.99
Number of Players: 1

Nobody ever said exploring the universe would be easy. In the next century, mankind has taken its interstellar efforts to new levels of achievement. Probes now speed out of our solar system at unimaginable speeds, and terraforming is being tested on a large planetoid named Haven-7 which now orbits close to Earth.

It turns out that our probes were all too successful -- a swarm of ravenous alien ships have arrived at Earth, and all-out war has resulted. Fortunately, we were not unprepared, but it will be a long and sordid fight. Meanwhile, the poor inhabitants of Haven-7 are left on their own, with only one ship spared for their defense. You are the PROTECTOR of Haven-7!

Protector is a joint development by Bethesda Softworks and Songbird Productions. The game is an incredible, fast-paced, blast-filled bi-directional shooter. Are you ready to protect your territory from the alien swarm? Can you keep those inhabitants safely located on the ground, or will they be mutated into an even deadlier foe? And don't forget to grab those powerups to enhance your ship and purchase even more upgrades at the Galactic Shop.

Other features:



40+ waves of heart-stopping action

60 FPS 90+% of the time

Over 100 simultaneous active objects

Rendered enemies and explosions

Digitally sampled audio effects

Wide variety of original foes and bosses

3 difficulty levels

3 layers of parallax scrolling

In-game music

Saved game support for each difficulty level

Protector: Special Edition is a new, enhanced version of Protector that will be jam-packed with all kinds of goodies to make this top 10 fan favorite even better! Possible features include an exclusive JagFest 2001 group picture, JagFree CD to enable future Jaguar CD software, new waves, new enemies, new landscapes, gameplay enhancements, and more! This is one Special Edition you won't want to miss.

Painter
Platform: Jaguar CD
Availability: NOW
MSRP: $24.99
Number of Players: 1

Painter is the addictive new puzzle game released by Sinister Developments in 2003. It features more than 100 all-new levels, enhanced audio effects, and several easter eggs you won't want to miss! Guide your 'painter' around the maze while dodging baddies looking to have you for lunch. Drop barriers to break off the chase while you race against the clock to complete each puzzle!

A JagFree CD compatible cartridge (such as Protector SE) is required to play this CD on the Jaguar 64-bit Interactive Multimedia System.

Trevor McFur
Platform: Jaguar
Availability: NOW
MSRP: $29.99
Number of Players: 1

"Attention all Circle Reserve units. The Crescent Galaxy has fallen...". Now it's up to you and your comrade Cutter to return the planet Cosmolite to it's citizens. You'll face killer Starbots, deadly Gundinos an savage Cyber Cherubs - the most formidable opponents this side of the universe. Rapid 3D rendering will make your interplanetary struggle as memorable as any Hollywood space adventure.

- A 64 bit gaming experience like no other

- Liberate the four moons of Cosmolite and face Odd-It

- Call in Cutter, your comrade, for assistance

- Spectacular 3D rendered graphics

- An asenal including beams, tracers and bolts

- Plow through a netherworld full of beastly enemies

- Fantastic, fearless and downright freaky end of level bosses

Raiden
Platform: Jaguar
Availability: NOW
MSRP: $59.99
Number of Players: 1-2

Mother Earth has fallen to deranged aliens. Now, as pilot of the Raiden Supersonic Attack Fighter, you must rip through enemy lines and mount a daring counterattack.. in Raiden, the ultimate arcade game conversion. Showcasing the Jaguar's 64-bit capabilities, Raiden enhances the vertical shooter excitement of an all time arcade favorite with brilliant sounds and exceptional speed and motion.

- 8 levels of proven arcade action

- Complex parallax scrolling, a searing CD quality soundtrack, and arcade fast, arcade vivid graphics

- Hundreds of enemies to blow into the stratosphere

Only Jaguar can deliver this level of arcade excitement at home - no other system can compare

Tempest 2000
Platform: Jaguar
Availability: NOW
MSRP: $59.99
Number of Players: 1-2

Turn out the lights, turn up the volume and prepare for a mind blowing assault on the senses. Once your neurotransmitters get a taste of the hypnotic rhythms of 100% pure techno rave, you'll be hooked.. Unable to escape the rush of blasting Flippers and Demon Heads as enhanced 3D polygons, screaming particle displays and hyper-delic Melt-O-Vision graphics warp you into the ultraviolent 64th dimension...

- Traditional Tempest - Light up the webs in the arcade classic

- Tempest Plus - team up with a friend, or an A.I. Droid,in a totally upgraded version of the original.

- Tempest 2000 - venture through 100 uncharted galatic webs filled with hostile targets, super Power Ups and Bounus Warps

- Tempest Duel - go Blaster to Blaster against the most formidable alien of them all - your buddy

Pinball Fantasies
Platform: Jaguar
Availability: NOW
MSRP: $49.99
Number of Players: 1

Are you up to the challenge? Turn your Jaguar into the ultimate amusement arcade with Pinball Fantasies - the greatest pinball simulator ever. This classic game offers four scorchingly addictive tables with the most realistic ball movement you'll ever see in a video game. If your looking for instant playability, speed and excitement, Pinball Fantasies is the game for you.

But be warned - one game and you're hooked.



SOFT JAG | HOME | HELP-O-RAMA