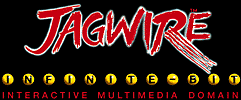 Fight for Life
Platform: Jaguar
Availability: NOW
MSRP: $69.99
Number of Players:
1 or 2

Missing in action, killed in a bar fight, or mistaken suicide, life in the afterlife can be a nightmare for everybody, especially if real life was a mess. In the Spectre Zone eight characters compete in the annual Hell Fighting Tournament for the amusement of the Gatekeeper. The prize is a second chance at life! Defeat each opponent and steal two of their special fighting moves to prepare for the final challengeŚa battle against the son of the devil himself. Choose your character carefully; there will be only one victor, only one new life...it must be yours!

- Eight true-color texture-mapped characters to choose from.
- Customized fighting moves choreographed by a martial arts expert.
- Exciting sound track. Title song by Grammy Award Nominee Joe VitaleŚComposer, Producer, and World-Renowned Drummer.
- Exceptionally smooth frame rate and camera motion.
- Player-controllable camera angles.
- Full-featured, customizable replay mode.


Pitfall: The Mayan Adventure
Platform: Jaguar
Availability: NOW
MSRP: $49.99
Number of Players: 1

Pitfall Harry has been kidnapped by the spirit of the evil Mayan warrior, Zakelua: Lord of Evil. You, Harry Jr., are the only one who can save him. The only clues to his whereabouts are pages from his journal. You'll need lightning-quick reflexes and a discerning eye to survive all the obstacles of the Mayan jungle - not to mention the enemies and traps of the Mayan temple ruins.

- Ten challenging levels to sneak, swing, skate and bungee your way through
- Enhanced gameplay not found in any other version. We've hidden the seven letter spelling "Pitfall" throughout the game. Find them all and see the secret ending!
- Pulse-pounding jungle soundtrack from the original score by Ian Howe
- Incredible art and graphics - over 2000 frames of film animation have been optimized for the Jaguar's outstanding capabilities


Highlander
Platform: Jaguar CD
Availability: NOW
MSRP: $59.99
Number of Players: 1

You are Quentin MacLeod, the hope of mankind. An immortal raised as an ordinary child, your destiny was unknown until the day slave traders destroyed your village and killed your mother. As she died, your mother urged you to seek out the stranger who would train you to fulfill your destiny, and free mankind from the grasp of Kortan, the evil immortal.

- Original dialog and cinepaked sequences from the animated series
- Numerous puzzles to solve and items to collect that will speed you on your quest
- Motion capture technology brings lifelike movement to real-time rendered 3D characters


Baldies
Platform: Jaguar CD
Availability: NOW
MSRP: $59.99
Number of Players: 1

Ever want to rule the world? With Baldies, you have the resources, but do you have the skill? Construct your own society, complete with workers, soldiers and scientists, and use them to improve your territory and to conquer the enemy (the ones with hair). You are limited only by your imagination. This is truly a game for all ages. With advanced AI, you can sit back and let the Baldies live out their lives, or you can dive right in, giving orders and watching the consequences. There are five areas of gameplay with hundreds of levels, including secret levels and inter-level warps.

- Cute, follicly-challenged characters
- Humorous claymation sequences between levels
- 100+ levels across five different worlds
- Bonus levels, hidden features, numerous inventions, and much, much more


Battlemorph
Platform: Jaguar CD
Availability: NOW
MSRP: $59.99
Number of Players: 1

You thought Cybermorph was challenging? Now, face a whole new roster of worlds, puzzles, enemies and weapons in the CD sequel, Battlemorph. The Pernitian Empire has been kicked out of human space, but they are preparing a vengeful strike! Take the fighting to their turf. With the new War Griffon, you'll be able to fly underwater and underground to get at all the enemy's weak spots! Collect valuable new technologies that will give you new weapons and abilities like nothing you've ever seen before!

- Full 3D environment; go where you want when you want
- Morphing War Griffon changes shape with the environment
- Travel through the air, underwater, and even underground
- Full-motion computer rendered video
- Over 10 different weapons and items for battle
- Over 40 complete worlds to explore


Bubsy: Fractured Furry Tales
Platform: Jaguar
Availability: NOW
MSRP: $59.99
Number of Players: 1

Only Bubsy can protect the world's kids from these silly stories and tangled up tales as he leaps his way through 15 frantic chapters of fabulous furry fun. In Fairytaleland, Bubsy attends a twisted tea party, climbs a giant beanstalk, voyages under the sea (without getting his paws wet), heads to Ali Baba's desert and even meets Hansel and Gretel, who should be up on kidnapping charges.

Will Bubsy be able to set all the fairy tales straight?


Hyper Force
Platform: Jaguar
Availability: NOW
MSRP: $79.99
Number of Players: 1

Trans Con is decimating world after world in search of enough resources and wealth to launch an attack against the Terran High Command. The politicians don't want a direct confrontation that might hurt their corporate sponsors. So, the Interstellar Special Forces has been called in to send a lone warrior to eliminate the Trans Con threat. Wanna guess who that warrior is?

Hyper Force was developed exclusively for the Atari Jaguar by Visual Impact. The game is a 2D multi-directional action/platform genre in a a colorful sci-fi setting. Fight waves of enemy soldiers, security drones, mining robots, fire traps, and more. Collect coins and energy to upgrade your personal arsenal. Find switches and solve puzzles to advance through the game.

Other features:

- ISF Supply Shop appears between levels to provide weapon upgrades

- More than 20 levels of intense action!

- Parallax scrolling

- In-game music

- Saved game support with three game slots


Syndicate
Platform: Jaguar
Availability: NOW
MSRP: $59.99
Number of Players: 1

A rival Syndicate has gained control of the population via a mind altering techno drug known as the CHIP. You are an ambitious executive in the syndicate, hand picked to lead a team of CHIP induced Cyborg mercenaries on a quest to infiltrate and seize opposing Syndicate territories. Your mission: Assassinate, pillage, destroy, do whatever it takes to bring down competing Agents... before they unleash thier bloody assault on you.

- The original, award winning PC smash brought to life with 64-bit power!

- Point and click interface puts you in the hunt immediatley.

- More than 50 completely new missions.

- You've got a complete arsenal - including the infamous Persuadertron.

- Battle for supremacy in 50 different Syndicate territories, from Mongolia to California.


Zool 2
Platform: Jaguar
Availability: NOW
MSRP: $59.99
Number of Players: 1-2

Zool and his daring and lovely sidekick Zooz face a challenge that would wilt the knees of even the toughest Ninja. The Nth Dimension is under attack from the evil forces of Krool. Our heros must restore the Nth Dimension to equilibrium and exile Mental Block and his mind numbing cronies before imagination is wiped out of existence. Zoon the two headed intergalatic wonder canine will help, but you'll need skills from the Nth Dimension to save imagination!


Cannon Fodder
Platform: Jaguar
Availability: NOW
MSRP: $49.99
Number of Players: 1

"DON'T Wait till you see the whites thier eyeys..."

"DON'T kid yourself it will be over by christmas.."

"DON'T try to shut out the screams.."

"and DON'T forget to wash your hands afterwards.."

CANNON FODDER: War has never been so much fun!




SOFT JAG | HOME | HELP-O-RAMA